Have you ever wondered what God thinks of your suffering?
Would you dare to ask the Almighty, and wait to listen for His response?
In her quest for answers, Kathryn weaves her story of debilitating illness, grief and a fresh start experienced as a young adult and invites us into the heart of her healing conversations with God. As she shares God's responses to her questions, she captures insights providing a unique perspective of a journey of suffering. Her testimony toward freedom and hope offers light and encouragement for others.
The cost for the book is $25 plus postage and handling from Tasmania. Please contact us if you would like to purchase a copy.
"Your book is impacting and I take small bites and chew slowly…its the two-way aspect that is deeply helpful, between the Lord and you. Thank you for being so honest with your story."
The Companion Reflective Journal
Threads of Hope Knots of Pain – Explore Your Story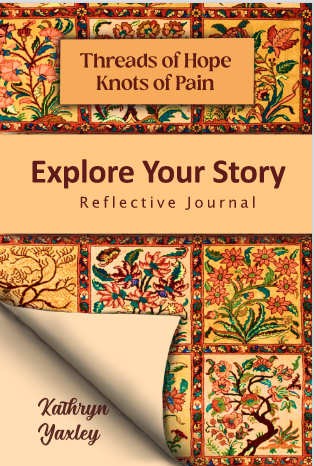 How do you begin to explore your own story and listen for the Divine perspective?
In this companion Reflective Journal to her own story, Kathryn provides us with a unique variety of crafted activities – keys to help us engage with our own life journey and position our hearts to listen for God's whispers. These are arranged around ten themes found in her book, inviting us to explore each as they relate to us. As we see with fresh eyes and reflect on these threads of hope we may discover increasing wholeness and a fresh appreciation for the tapestry that is our life.
This Reflective Journal is designed as a life resource and can be used without having read Kathryn's book.
This Journal is $20 plus postage and handling from Tasmania. Contact us to purchase.
---
The Journal includes:
Reflective Questions – Helping us to dig a little deeper into the topics, applying them to our own lives.
Two-Sided Journalling – Teaching us to listen to our Creator and process our thoughts on paper.
Creative Reflections – Inviting us to use our imagination and the 'eyes of our heart' to take a fresh look at these themes, glimpsing the Divine perspective in the midst.
As Kathryn benefited so richly from reflection and listening to God for her healing, she finds joy in introducing others to these practices. Taking different forms since beginning ministry after Bible College with her husband Peter, these include mentoring, teaching, writing resources and leading days of reflection and retreats in the beautiful surrounds of their home in Tasmania.